DEMAND PEAK PROTECTION FOR YOUR INK.
IMPORTANT REMINDER FROM NRGTATTOO
Please keep in mind that sunscreen is a necessary part of the overall care of your artwork. Keeping your tattoo safe from the sun is a very great way to make sure that it stays looking amazing for the years to come. Please start the use of sunscreen only after 4 weeks of the initial tattoo. Before the 4 week mark it is important to keep your tattoo out of the sun and follow your artist's instructions so that the tattoo can heal completely. Feel free to generously apply sunscreen whenever exposed to the sun after the 4 week mark or when the tattoo is fully healed, and remember that it must be reapplied every 2 hours or so depending on the SPF and level of sun exposure. Following these guidelines will help you enjoy your new artwork for years to come!
Learn About UV Rays & SPF
SHOP TATTOO-SHIELDING SUNSCREENS NOW
AT 15% OFF FOR ENERGY TATTOO MEMBERS
Discount code applied automatically at checkout.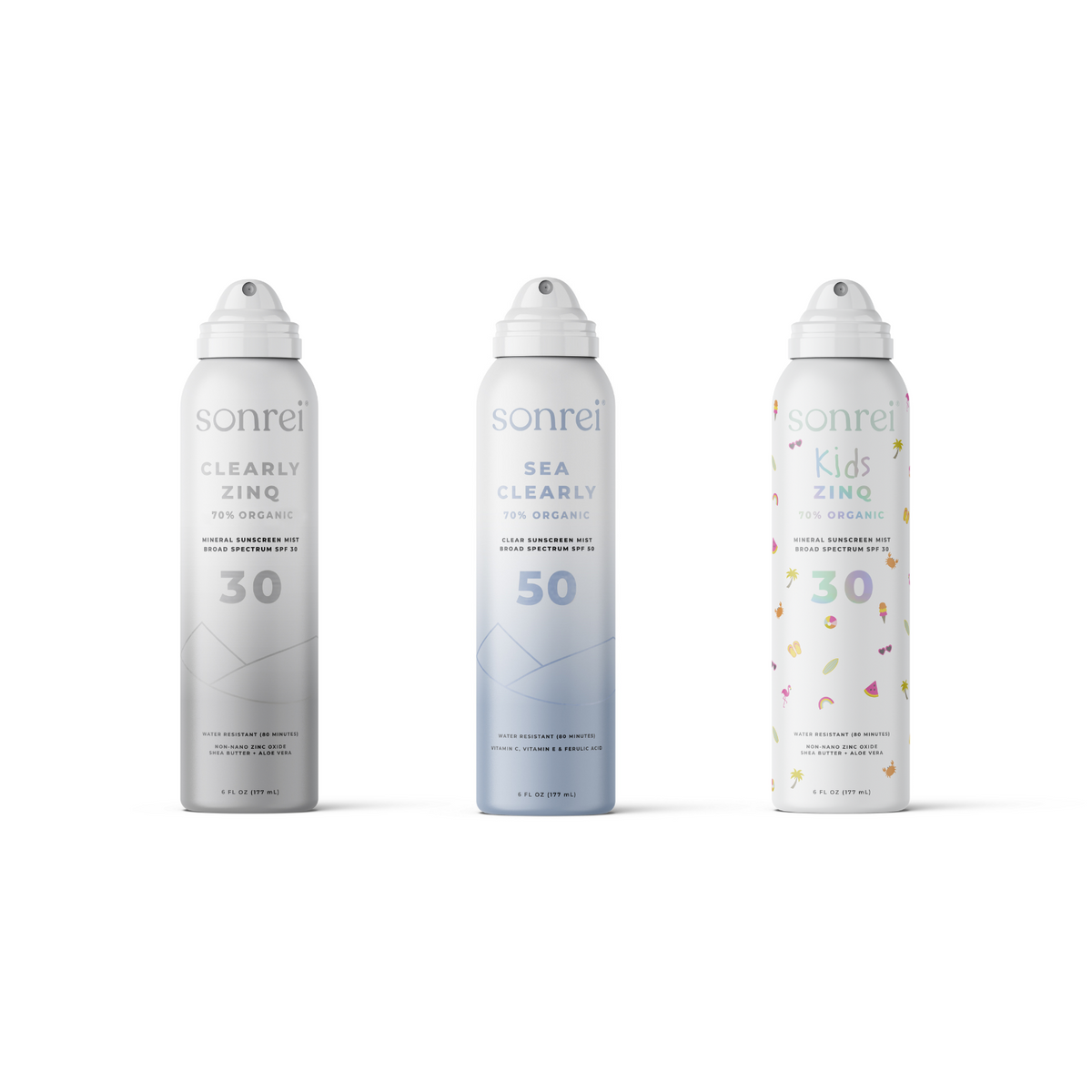 Organic Mist Collection

Facial SPF + Growth Factor Collection
Hydrating Gel Collection
Protecting your investment
With all the time and money spent on making your ink a reality, we know you want to keep your tattoo as sharp and clean as the day you left the artist's chair.

Whether you have one tattoo or dozens, keeping your tattoos crisp and fresh is all about keeping your skin healthy.

The sun is an enemy to all tattoos regardless of whether you got them a day ago, a month ago, or years back, and it's important to keep in mind that tattoos always lose when going up against the sun. Shop tattoo-protecting sunscreen using the link below, or scroll down for more info on how your hard-earned artwork can be compromised by sun exposure.

Shop The Sonrei Collection Now
Tattoo ink is held in the dermis – the second and thickest layer of your skin. While this layer is generally safe from the sun's burning rays, it is easily compromised by UVA rays. If exposure to UVA rays is continuous, the ink will begin to break down. White blood cells then carry the ink away as if it were an infection or other foreign particle. The leftover ink is usually spread out and splotchy, blurring the lines of the tattoo.

Depending on the type of ink used, your tattoo may also turn green or blue over time. Color distortion is more common with black and gray tattoos, as darker green and blue pigments are often used to darken the ink. As the overall concentration of ink lowers, these unwanted colors become more prominent.

Thankfully, it can take years for substantial fading to take place. On the other hand, tattoo fading caused by UVA rays happens so slowly that you probably won't notice it until it is too late.
UVB rays are the rays responsible for sunburn. Sunburn is bad enough on untattooed skin, but it can distort and prevent new tattoos from healing properly. A sunburn can fade a tattoo in much the same way as UVA rays do, but it can happen at a faster rate.

New tattoos are essentially open wounds. As such, they are highly susceptible to outside elements like bacteria, friction, and sun exposure. With the exception of getting an infection, too much sunlight is the worst thing that can happen to a new tattoo. At best, a sunburn on a new tattoo will extend the amount of time needed for the tattoo to fully heal. In extreme conditions, it can distort the lines and coloring of the tattoo.

Ink loss and distortion is most likely to occur as a result of a blistering sunburn. In these cases, the dermis may be harmed, causing ink to leak out or break down. When the tattoo finally heals, the colors may be duller, the edges blurry, and the lines undefined.
SPF, or sun protection factor, is a measure of how strongly a sunscreen blocks the sun's UV rays from penetrating your skin. Choose a sunscreen with an SPF of 30 or higher for covering your tattoos and the rest of your body.

When buying sunscreen, look for those labeled "broad spectrum." This means a sunscreen contains ingredients that protect your skin from both UVA and UVB rays.

The bottom line: the best way to prevent burns, fading, wrinkles, and other damage to your tattoo is to protect yourself from the sun in the first place. Using sunscreen regularly will help keep your body ink looking its best, while also preventing sun damage and skin infections that can fade or damage your tattoo.
GET OUR FLAGSHIP SUNCARE LINE
AT 15% OFF FOR ENERGY TATTOO MEMBERS
Discount code applied automatically at checkout.
WHAT OUR CUSTOMERS ARE RAVING ABOUT
SO AMAZING
This gel sunscreen by Sonrei is one of the best I've used and I've tried dozens over the years. This gel isn't the slightest bit greasy and it stays put really well. It performs as well and feels as good as an expensive moisturizer leaving a nice, smooth, silky feeling and lasting hydration without oiliness. It has very little scent and it's the first sunscreen I've ever tried that contains Vitamins C & E and Ferulic Acid for antioxidant and protective benefits that are so good for your skin. This is a great sunscreen and good buy, I recommend it!

Maya A.
Great For Sensitive Skin & Effective!
My dermatologist recommended this product. Sonrei is by far the best sunscreen I've ever used. It goes on smoothly, and does not leave an oily film or feel on your skin. Yes, the price is a little expensive, but it's so worth it. I can use it on my kids' sensitive skin and I don't have to worry about them breaking out! I stocked up like I do when I find a great product! Sonrei is our go-to from now on!

Amy T.
Best Sunscreen I've Tried!
I loved this sunscreen!!! I recently went on a trip to Puerto Vallerta, Mexico and put this SPF to the test. I was looking for a sunscreen with the following: Gel texture that is easy to rub into skin, can be used on the face and body, no fake/added scents or fragrances, reef safe, not greasy, & not going to leave a whitish film on the skin like many mineral sunscreens do. I can honestly say Sonrei Sea Clearly SPF 30 met EVERY one of these needs for me!!

Charlotte L.
Our Motto
Crafted for Every Kind
A majority of our founding members are of Brazilian or Indian roots, and for years had lacked the option of skin care products that fit our needs. Not ones to shy away from a challenge, we decided to create the perfect product ourselves. Our whole team is committed to creating inclusive products for all skin tones, types, and pigments.
CRAFTED FOR EVERY KIND
We are a suncare-first skincare brand, consciously created with care and intention. That's why every product in our line is paraben-free, cruelty-free, gluten-free, fragrance-free and vegan.

We are committed to creating inclusive products for all skin tones, types, and lifestyles.

Shop The Sonrei Collection Now