DEMAND PEAK PERFORMANCE FROM YOUR SUNSCREEN PRODUCTS
SHOP ELEVATED SUNCARE NOW
AT 15% OFF FOR "ENTER NAME" MEMBERS
Discount code applied automatically at checkout.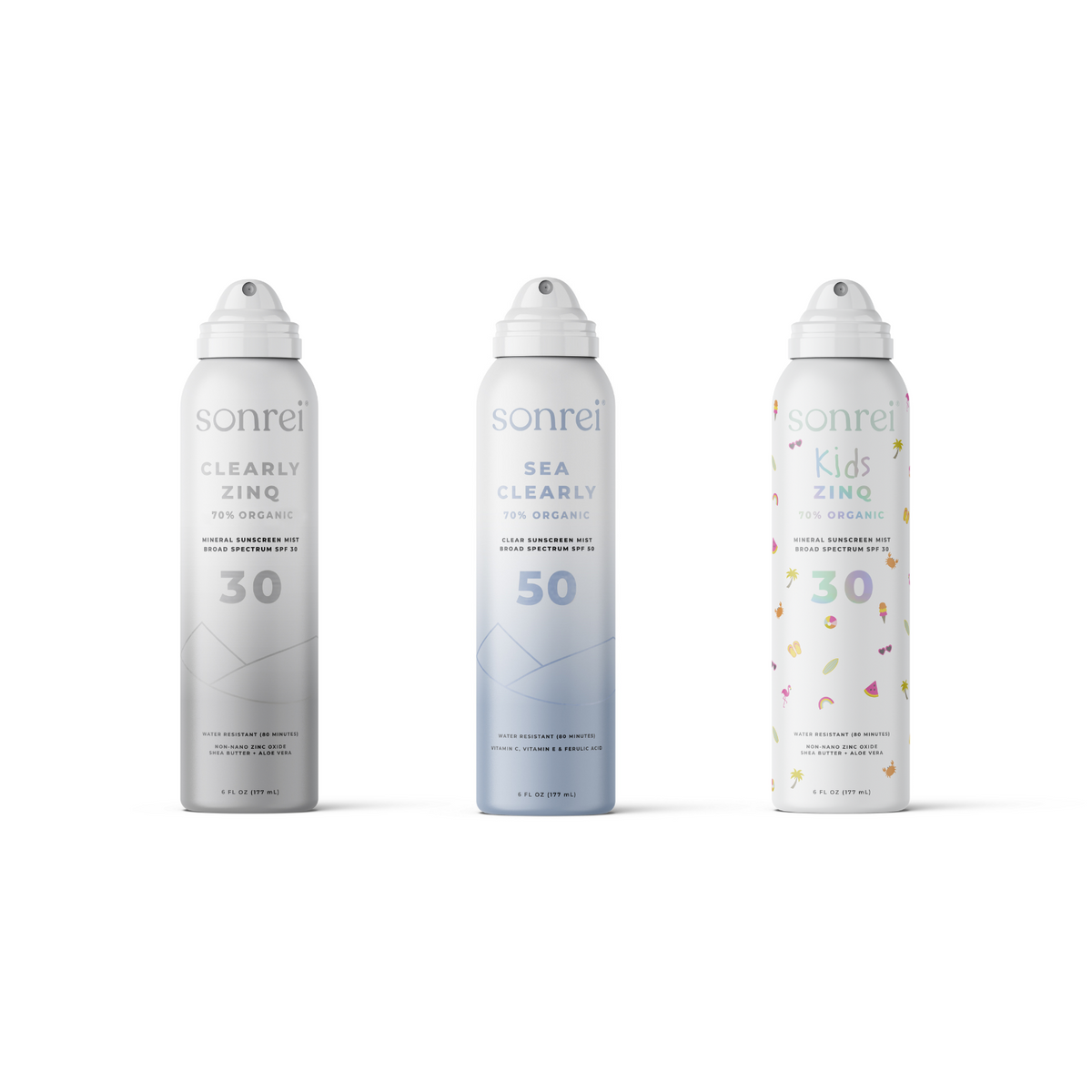 Organic Mist Collection

Facial SPF + Growth Factor Collection
Hydrating Gel Collection
Sunscreen, remagined.
We are a sun care first skin care brand, consciously created with care and intention. That's why every product in our line is paraben-free, cruelty-free, gluten-free, fragrance-free and vegan. It's not only a promise we're proud of, but one that we take seriously. Sonrei is CRAFTED FOR EVERY KINDTM.

We are committed to creating inclusive products for all skin tones, types, and lifestyles.

We named our brand Sonrei from the Spanish verb for smile, "sonreir," because we know our sunscreens will leave our customers smiling the day away.
Shop The Sonrei Collection Now
WHAT OUR CUSTOMERS ARE RAVING ABOUT
SO AMAZING
This gel sunscreen by Sonrei is one of the best I've used and I've tried dozens over the years. This gel isn't the slightest bit greasy and it stays put really well. It performs as well and feels as good as an expensive moisturizer leaving a nice, smooth, silky feeling and lasting hydration without oiliness. It has very little scent and it's the first sunscreen I've ever tried that contains Vitamins C & E and Ferulic Acid for antioxidant and protective benefits that are so good for your skin. This is a great sunscreen and good buy, I recommend it!

Maya A.
Great For Sensitive Skin & Effective!
My dermatologist recommended this product. Sonrei is by far the best sunscreen I've ever used. It goes on smoothly, and does not leave an oily film or feel on your skin. Yes, the price is a little expensive, but it's so worth it. I can use it on my kids' sensitive skin and I don't have to worry about them breaking out! I stocked up like I do when I find a great product! Sonrei is our go-to from now on!

Amy T.
Best Sunscreen I've Tried!
I loved this sunscreen!!! I recently went on a trip to Puerto Vallerta, Mexico and put this SPF to the test. I was looking for a sunscreen with the following: Gel texture that is easy to rub into skin, can be used on the face and body, no fake/added scents or fragrances, reef safe, not greasy, & not going to leave a whitish film on the skin like many mineral sunscreens do. I can honestly say Sonrei Sea Clearly SPF 30 met EVERY one of these needs for me!!

Charlotte L.
BUY OUR FLAGSHIP SUNCARE LINE
AT 15% OFF FOR "ENTER NAME" MEMBERS
Discount code applied automatically at checkout.
Our Motto
Crafted for Every Kind
A majority of our founding members are of Brazilian or Indian roots, and for years had lacked the option of skin care products that fit our needs. Not ones to shy away from a challenge, we decided to create the perfect product ourselves. Our whole team is committed to creating inclusive products for all skin tones, types, and pigments.